PayPlans
Start Monetizing Your Web Sites Today
with Our Memberships & Subscription Extension for Joomla!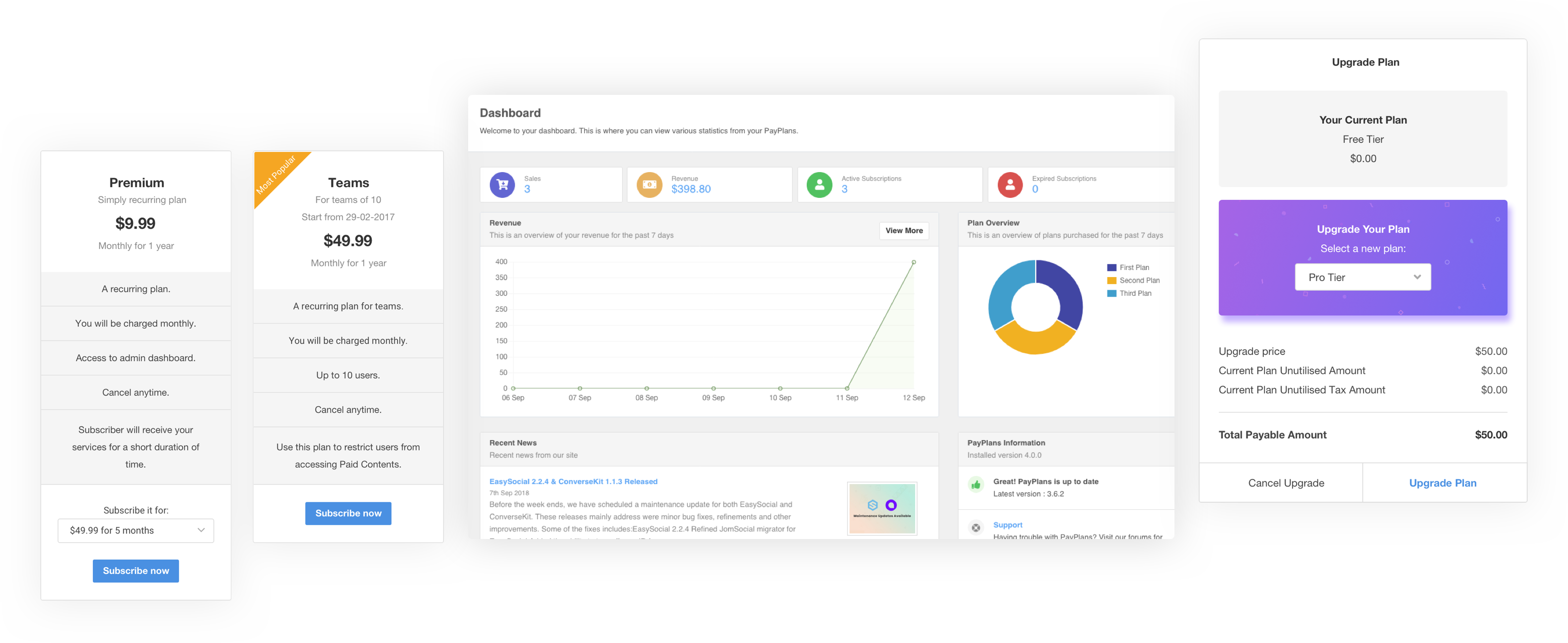 The one stop solution for any e-Commerce site in Joomla!, PayPlans makes creating, selling and managing subscriptions a whole lot simpler.
Dashboard Essentials
Take control of user subscriptions and easily access important information on the site.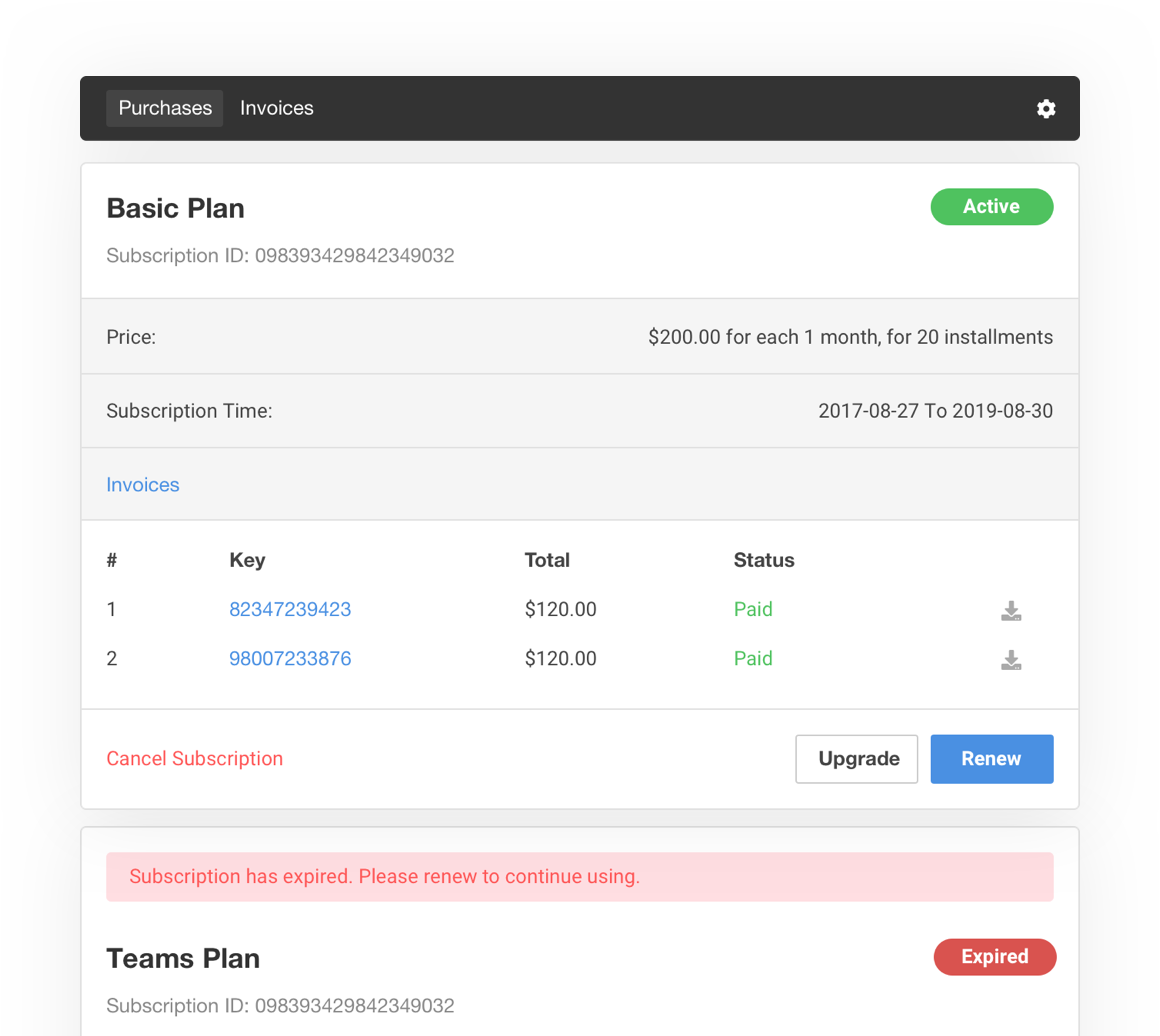 GDPR Compliant
Retrieve and download important personal data directly from the dashboard.

Purchase Listing
View the entire listing of new and old subscriptions made on the site.

Account Preferences
Update important details that will also be reflected in users' invoices.

Manage Subscriptions
Renew, upgrade, cancel any recurring subscription or follow-up on any incomplete pending payments easily.

Invoices
View or download the latest invoices in PDF format conveniently from the dashboard.
Instant Overview
A bird's eye view of some of the most important numbers and statistics generated from the site.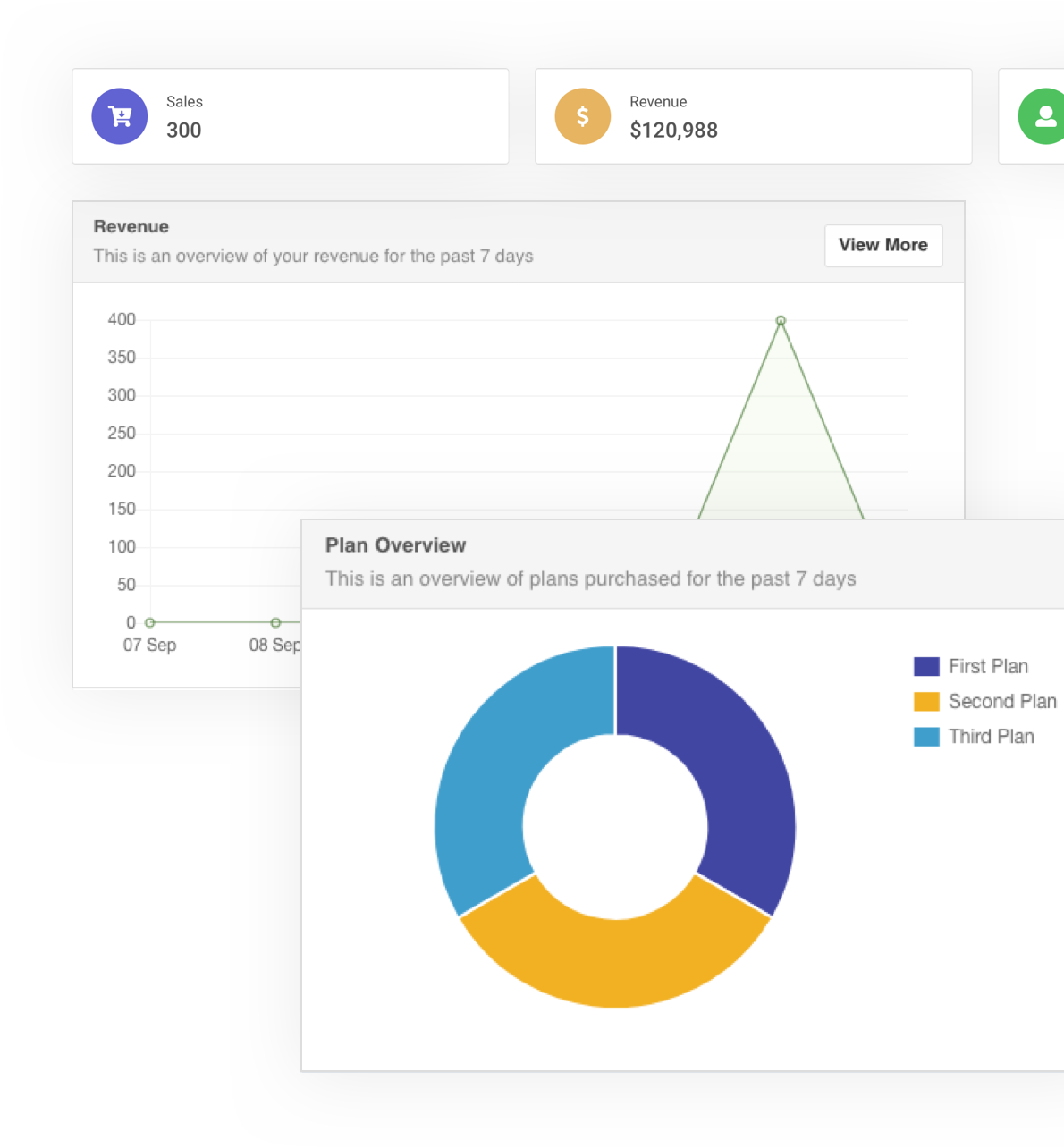 Recent Revenue Earned
View the overall revenue generated for the past 7 days.

Recent Plans Subscribed
View the overall plans subscribed for the past 7 days.

Single Click Updater
Quickly upgrades PayPlans whenever a maintenance update is available.

Newsfeed
View snippets of the latest news and happenings from Stack Ideas site.
Flexible Subscriptions
Everything you ever needed to manage and monitor subscriptions performed on the site.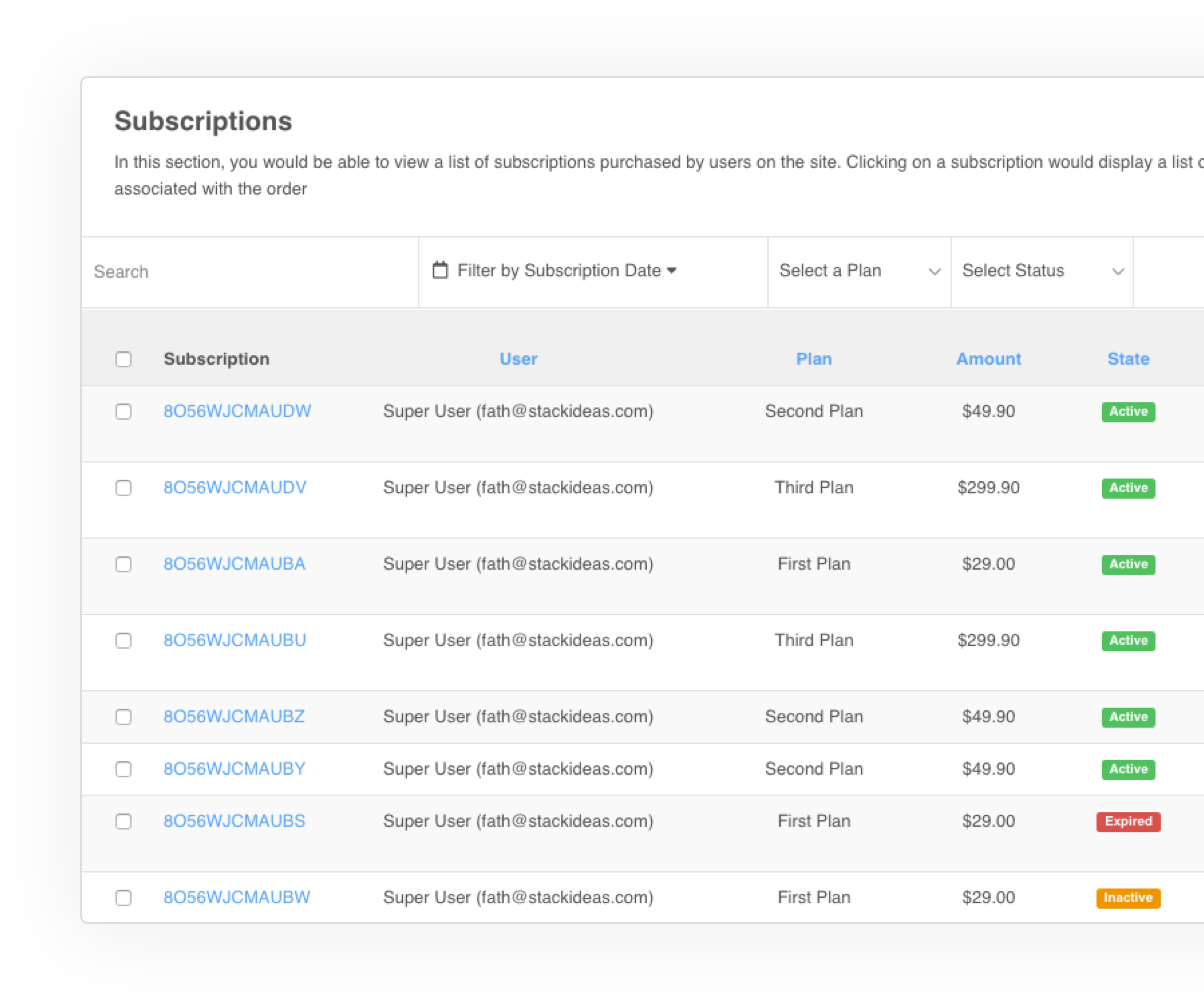 Subscriptions
Create, update and monitor transactions or history logs on every subscription.

Invoices
Create, update and monitor every changes made on every invoice.

Custom Details
Configure custom details to be collected as additional information from users.
Powerful & Customizable Plans
Extensible settings that allows you to own a diverse range of subscriptions and memberships on the site.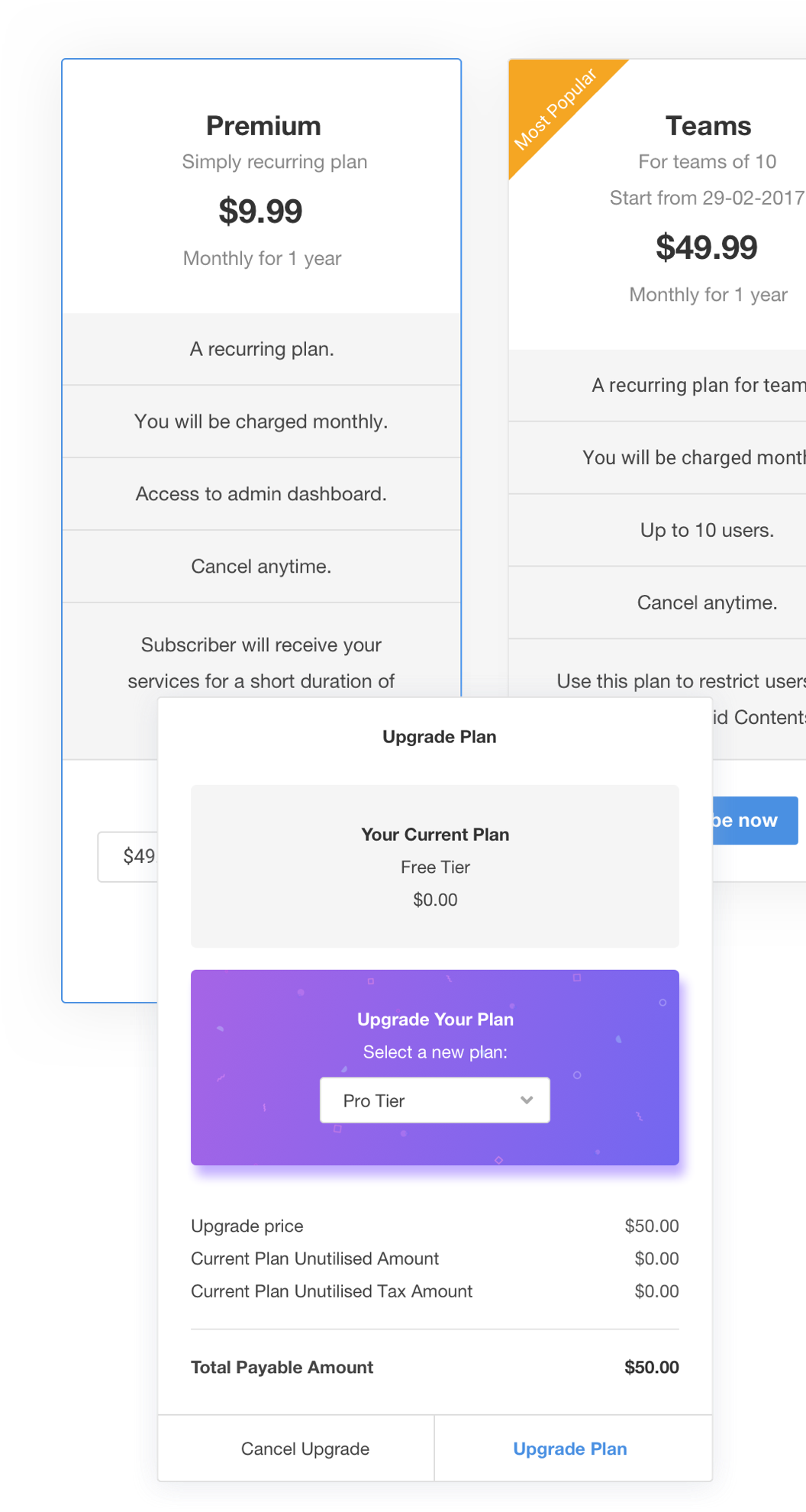 Custom Plans
Create free and premium plans, whether one-time, recurring, trial or even lifetime subscriptions.

Personalized Plans
Highlight and style any plan with different badge position, background color & text colors.

Plans Grouping
Sort similar plans according to its interest or product type.

Upgrades
Create upgradable plans that allow users to pay only with the price difference.

Renewals
Create renewal plans for users to extend their existing subscriptions.

Discounts
Create or generate coupon codes as incentive to encourage user retention.

Dynamic Modifier
Create plans that allow plan conversion according to its title, price and time.

Advanced Pricing
Create plans of different quantity and price variations.

Plan Add-ons
Cross sell or recommend plans that might interest users on top of the main subscriptions.

Limit Subscription
Limit the number of subscriptions for each subscription status.
Performance Statistics
Intuitive statistics on the overall performance generated on the site.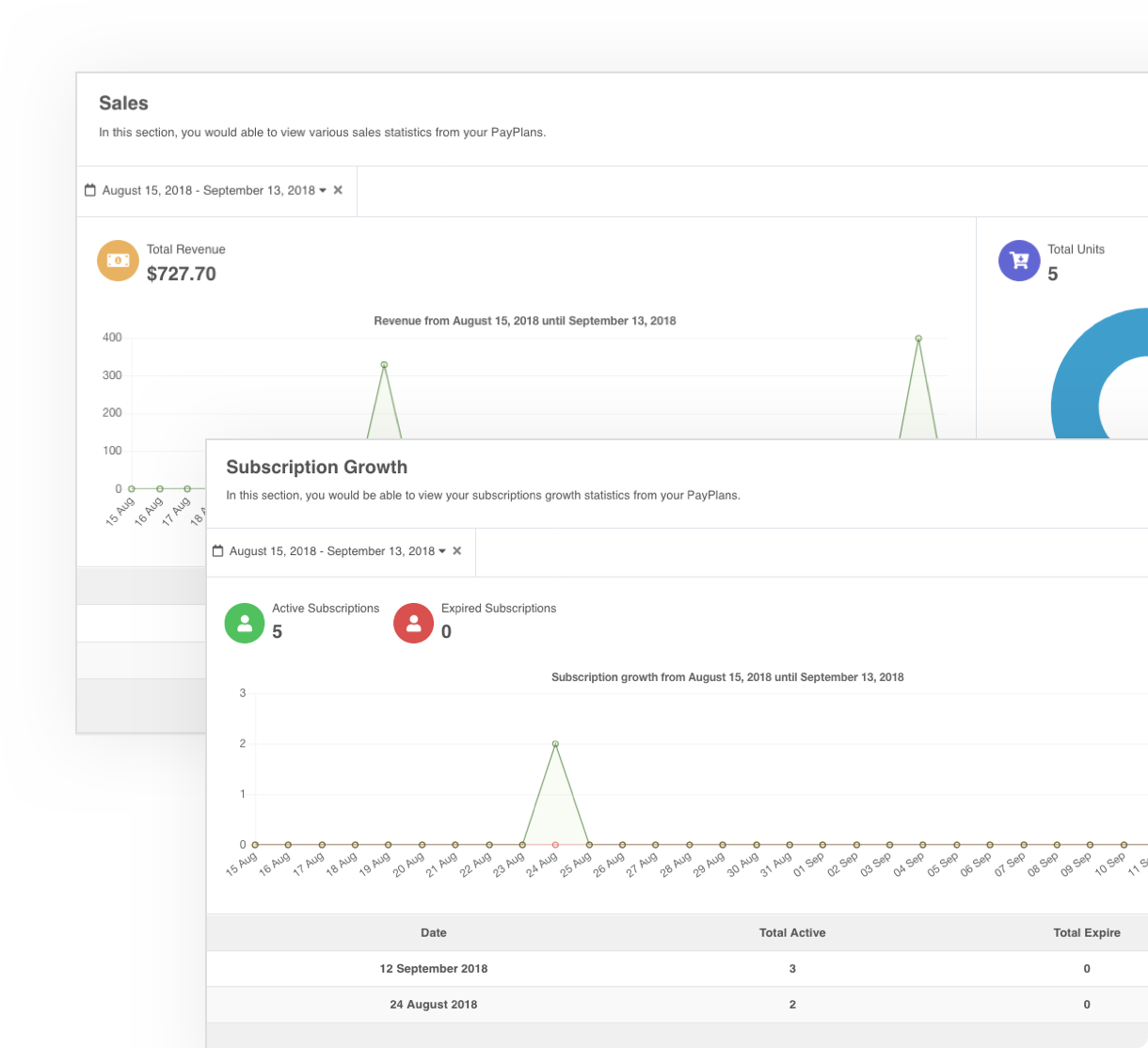 Sales
Overview of the generated sales and revenue.

Growth
Overview of the generated growth.

Renewals
Overview of the generated subscription renewals.

Upgrades
Overview of the generated plan upgrades.
Give PayPlans a try today!
PayPlans is the best membership & subscription extension for Joomla. Backed by our 30-day money back guarantee.
Effective User Management
Essential tools when handling and managing users in PayPlans.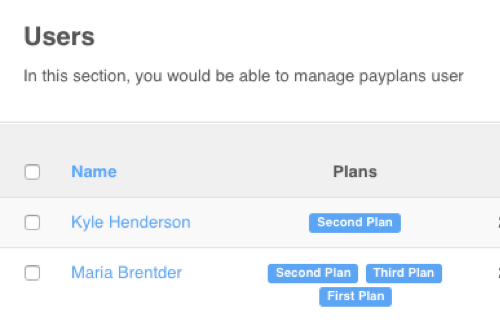 Users Overview
Display the overall subscribed plans of all users on the site.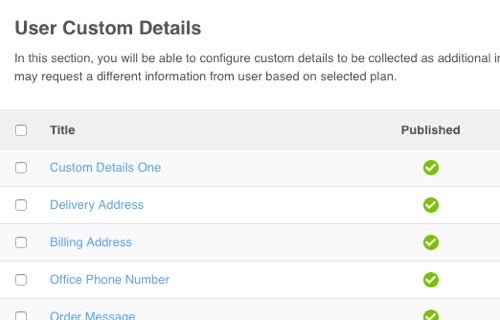 Custom Details
Configure custom details as additional information on specific plans. These information can also be edited from user's preferences page.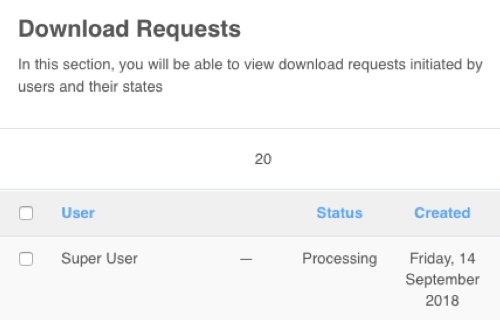 Users Download Requests
Keep track of all download requests initiated by users and the current status of file downloads.
Payment Gateways
Supports up to over 20 payment gateways and counting.

| | | | |
| --- | --- | --- | --- |
| 2checkout | Alipay | Authorize.Net | Authorize.Net CIM |
| Bitpay | Braintree by PayPal | ComPay | EBANX |
| FastSpring | Mercury Processing Services | Nets A/S | Offline Payment |
| Ingenico | PayFast | Payflow | PayGate |
| PayPal | PayPal Payments Advance | Website PayPal Pro | PayUMoney |
| PayUnity | PayU Turkey | Pay with AltaUserPoints | Pin Payments |
| PayZen | QuickPay | Remita | Saferpay |
| SmoovPay | Stripe | Wirecard | and many more... |
3rd Party Integrations
A lineup of over 20 applications from popular 3rd party extensions to enhance the overall user experience.

Email Notifications
Get notified for every activity performed on the site.
Status Changed
Notify users whenever any subscription status or invoice was changed or updated.

Pre Expiry
Remind users of the expected expiration dates for their subscriptions.

Post Expiry
Notify users whenever their subscriptions have already expired.

Post Activation
Notify users whenever their subscriptions were successfully activated.

Cart Abandoned
Remind users to return and complete their orders on the site.
Other Cool Features
Not forgetting these equally nifty features included as well.
Automation Scripts
Run automated scripts for purchase certain events in PayPlans.

Referral
Create referral codes to share among other users for new subscription purchases on the site.

Multilingual Support
Choose your preferred language to maximize a more localized user experience.

Logs
Logged down detailed actions performed for every record on your site.

Reports
Generate reports of database into CSV and PDF format.
We let our customers do the boasting
We are grateful to have some of the most supportive customers on board with us.
Here's what they have to say about our products & services:


A modern social software requires workflow and usability. StackIdeas has it all. If you value your web property, StackIdeas is a wise investment.

It's not often you come across a component that is pretty good at what it does, and comes with an oustanding level of customer support.

I first came to knew about StackIdeas when I was looking for a good blog solution for our Joomla site and they are the best option. I was very surprised about the customer services in StackIdeas. Their staffs are simply awesome. I ended up with purchasing all their amazing products. Yes, all of them!

You can successfully integrate professional blogging into the world's most popular self-serve CMS. EasyBlog makes my 'must-install' list for Joomla!

As the primary end-user during our recent transition to a new website, one of my biggest concerns was the import of content from our previous blog. EasyBlog allowed this process to be a relatively seamless one.

Stackideas EasyBlog/EasyDiscuss are COMPLETE products that allow us to successfully create and manage our client sites with a "no questions needed" product.
View More Testimonials
Get PayPlans
PayPlans is the best membership & subscription extension for Joomla. Backed by our 30-day money back guarantee.